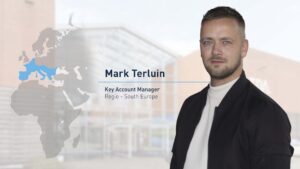 ---
A short introduction
Mark joined TDA (Touchdown Aviation) in January 2014.  
Started as a youngster in our old facility at Sloterweg directly under the wings of Schiphol Amsterdam Airport, Mark worked his first years in the shipping and logistics department, as his career growth is simultaneous with the growth of the company, Mark nowadays is our Key Account Manager of the south (west) regions in continent Europe.
He is handling the needs and wishes of some well-known operators. Because Mark has worked in multiple departments like logistics, after-sales and repair. Mark knows exactly what must be done within the organization when promising his customers something. He is using this advantage to achieve a no-nonsense relationship with his clients, shortly said Mark will deliver the service he promises. And if he cannot service he surely will not promise.  
Mark is currently busy developing a dedicated sales team that will assist the customers in the south European region in the best feasible way while maintaining his own focus on the top OEMs and end-users in this region. 
Please reach out to Mark and his team if you want to talk about how we can support your aftermarket requirements. 
---
What is the strategy of TDA in your region?

 
We would like to see our customers more as partners and try to build up a reciprocal business relationship. 

This way we do our best to build up a long-term relationship which is fruitful for both companies. 

We also listen carefully to the feedback we receive to improve the services we provide.  
What is your role being assigned to develop sales in your region?

 
I am incredibly happy to say that I am Key Account Manager in Western and Southern Europe. 

My role within this region is to assist our customers / partners with all their requirements, from AOG (Aircraft on Ground) support to long term projects. 
How can we help our customers in the West and South European region?

 
The most important thing is to always be honest and to be a reliable partner for any of our customers.

Our main inventory is stored in mainland Europe, which helps to save the customers time and money on logistics.

Furthermore, we are working on getting more units ready to go at Amsterdam, which helps on the AOG and urgent requirements.
Thank you, Mark!