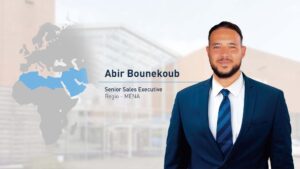 ---
A short introduction
Abir joined the TDA Sales team in January 2021. Given his background with the Royal Netherlands Air Force, the world of aviation has always fascinated Abir.
 Starting as a Sales Executive, Abir absorbed the know-how of the industry very quickly. He started developing his network in the MENA region and with success. This effort led to a promotion for Abir to Senior Sales Executive – Middle East & North Africa. 
 In his current role, the number of partners and customers increased significantly, and as of June 2022, the MENA team has expanded with Burcu Kalles, who is assisting Abir in serving the region in the best way possible.
 Convenient for this region is that Abir is multilingual. He enables us and our network to communicate in English, French, and Arabic. Another big plus is that Abir has great social skills and a willingness to walk the extra mile, he always makes his best efforts to serve our customers within the MENA region, with quick response times and a real personal connection.       
---
What is the strategy of TDA in

Middle East & North Africa?

?
Trust is the basis of fruitful long-term business-relationships. Through intensive cooperation with different key-parties in the region, TDA wants to contribute to the significant growing aviation market in the MENA region. We listen very carefully to the feedback given on our provided services. The attention paid on details per each customer, ensures that the solutions and results are constantly improving. Along the process of identifying the needs of the airlines and MRO's, we have gained trust.
What is your role being assigned to develop sales in your region?
I am grateful for the responsibility to develop the position of TDA in the Middle East and North-Africa. My role within this process requires me to support our customers with their supply chain challenges around the clock. This includes AOG support, redelivery operations, maintenance checks and long-term projects.
How can we help our customers in the
Middle East and North-Africa
in particular?
The most important thing is to be a reliable partner for our customers. The number of operations in the region is rapidly growing. The average fleet age is relatively young, hence TDA is anticipating with increasing our inventory with the right assets. Furthermore, TDA is actively stocking components in the Middle East. This saves our customers logistic costs and valuable time.
Thank you, Abir!
Abir and the team can help you to find the solution that fits best in your situation whether you are representing airlines, MROs, traders, OEMs or lessors.